Metabolife-356 is replaced by Metabothin-B56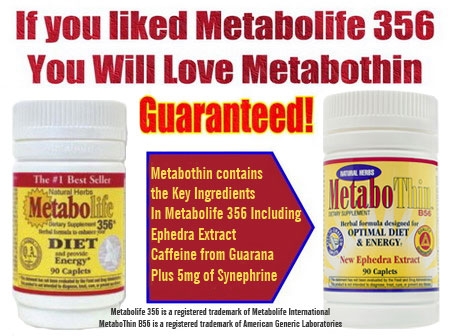 Metabolife-356 VS Metabothin B-56
Kicking up your weight loss goals has never been so easy. Metabothin, also known as Metabo Thin, combines all of the best ingredients from the ephedra diet pillsMetabolife 356 with the now legal ephedra extract for the weight loss results of a lifetime. This product by American Generic Laboratories gives a significant energy and fat burning boost. The difference is in the alkaloids. The ephedra alkaloids in the original formula has been swapped with ephedra extract for a phenomenal transformation. By adding the essential alkaloid solution Synephrine, Metabothin can easily be called the best diet pill of the century.
The original formula of Metabolife 356 was lacking in the one key ingredient Metabothin now has to offer. Metabolife 356 was an extremely popular weight loss supplement between 2001-2006, due to its unique blend of ingredients and ephedra. Since ephedra was questioned, Metabolife 356 was being sold without it for a bit. Those days are over. Metabothin is now available with the exact same ingredients everyone has responded to so well, along with the ever-so-popular ephedra extract.
With the powerful combination of herbs, including Goldenseal, Ginger Root, Green Tea Extract and Royal Jelly, along with the technologically advanced ephedra supplements, there is no losing with Metabothin. The effects of the herbs mixed with ephedra extract gives just the right amount of energy to start off your day right. The herbal ingredients in Metabothin have been known to be extremely effective energy boosters on their own, especially Ginseng, cocoa extract, royal jelly, ginger root and bitter orange (synephrine). Combining pure ephedra extract to this already potent blend makes Metabothin a truly unique product in weight loss supplements.
Not only has Metabothin been proven to considerably increase energy levels with its combination of herbs with ephedra, it also boosts metabolism and acts as an appetite suppressant. This life-changing concoction also utilizes thermogenics, which transforms your body's heat to lose weight fast!

Metabothin's 10 mg of ephedra extract and 40 mg of caffeine (from the plant guarana) pool for a one-of-a-kind powerful supplement. You can be sure to always maintain lean body mass with the appetite suppressing ingredients, essential minerals and Vitamin E Metabothin has to offer. No wonder so many trust in the benefits of Metabothin for their weight loss and muscle sustaining needs.

Ephedra-based fat burners are popular in a swarm of products, and for good reason. With it, you can always expect to burn pounds quick. Other supplements, also by American Genetic Laboratories, widely known in the market consist of Superdrine RX10, Ripped Power and Xenadrine RFA-1 to name a few.

Starting a diet can be a tough transition. Don't put yourself through altering everything just to feel completely defeated from a loss of energy. Take advantage of the almost identical Metabolife 360, only with one extra bonus, and order Metabothin for the weight loss transformation you've been dreaming of. You won't regret it.