Ripped Fuel With Ephedra is replaced with Ripped Power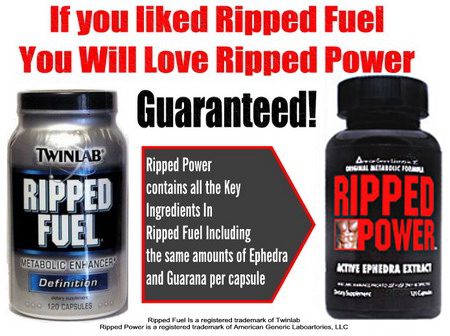 Ripped Fuel With Ephedra VS Ripped Power With Ephedra Extract
Have you been striving to achieve the perfect physique? Do you crave the right muscle mass for your body? American Generic Laboratories is here to help. With Ripped Power Ephedra Diet Pills, there is no need to look anywhere else. All you need are the few key weight loss and muscle building ingredients. American Generic LaboratoriesRipped Power Ephedra Diet Pills has taken the place of Ripped Fuel by Twinlab.
Ripped Power provides all of the daily energy you need, combined with the same ground-breaking fat-burning power as Ripped Fuel. Ripped Power has been argued to be the most intense fat-burning, ephedra product on the market.
With the popular combination from Ripped Fuel ofEphedra and Chromium Picolinate, it's no wonder Ripped PowerEphedra Diet Pills has been the hot topic of conversation. Ripped Power now has the capability to deliver the all-day energy boost that Ripped Fuel once offered. The powerful mixture of Chromium Picolinate and L-Carnitine is what truly makes the difference. With Chromium Picolinate and L-Carnitine, you can finally stop worrying about losing muscle mass. The blend of the two makes sure your body only uses fat for fuel.

So why wouldn't you want to burn fat instead of muscle, or increase your energy levels with herbs and the best products on the market? Ripped PowerEphedra Diet Pills are the leading comparison to the dramatic effects of Ripped Fuel.

Feeling a pull to open the refrigerator door for just one more snack? Do not fear; Ripped Power is here. You can get rid of that feeling for good when you try Ripped PowerEphedra Diet Pills, as they are the leading product to suppress your appetite as well.

In order to achieve your perfect body, Ripped PowerEphedra Diet Pills will not only act as an appetite suppressant, but it will boost your metabolism, use thermogenics for superior fat-burning results and more. With natural herbs and the best scientifically created supplements, you can count on Ripped PowerEphedra Diet Pills to increase your energy and burn off fat, no muscle every time.
Now, you may be wondering the science and reasoning behind these seemingly magic diet pills. Ephedra extract and guarana seed extract are the key ingredients responsible for suppressing your appetite, giving you that burst of energy you need to get through the day and boosting your metabolism to the highest it's ever been. Ripped PowerEphedra Diet Pills will heat up your body right when you start taking them by using a powerful concoction of thermogenics. Your body will even burn calories all day, as if you were constantly working out! The best part about this fast-acting weight-loss supplement, is you do not even have to change your everyday routine. However, if you do decide to increase your workouts AND use Ripped PowerEphedra Diet Pills, the combination will work extreme wonders. This powerful combination will also make you eat less during your mind-blowing weight-loss and muscle building process.
If you were a fan of Ripped Fuel, Ripped Power is the clear and obvious choice among athletes and many more. It is 100 percent guaranteed and contains the exact same ingredients, including a comparable amount of Guarana, White Willow Bark and Ephedra Extract per capsule.

Ripped PowerEphedra Diet Pills is a no-brainer to gain the muscle mass you need and lose the fat you've been dying to take off. American Generic Laboratories makes it their mission to produce the highest quality weight-loss products, with the fastest possible results. This weight-loss, muscle building product is especially ideal for athletes. Ripped PowerEphedra Diet Pills is the number one choice for body builders as well, because of its unique blend of Chromium Picolinate and L-Carnitine. With this exceptional, new and improved combination of ingredients, you can always be sure that your body is using fat for fuel.

Losing weight does not have to mean you lose a great deal of muscle as well. Ripped PowerEphedra Diet Pills is one of the few products that makes losing weight only about the fat. Why not keep the muscles you have and gain the lean body mass you deserve? It's time to step up and get the body you've been searching for with Ripped PowerEphedra Diet Pills.
Don't let any more time go by without living up to your full potential. Don't let the day drag on because of your low stamina and power; live up to the power of Ripped PowerEphedra Diet Pills instead!