Xenadrine RFA-1 is Replaced by Superdrine RX-10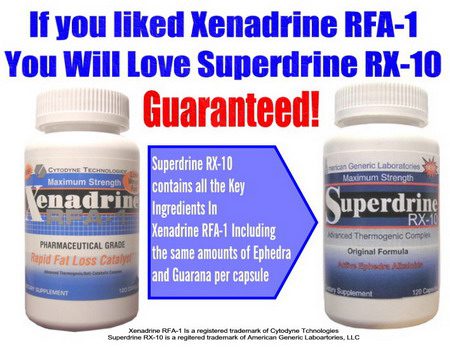 Xenadrine RFA-1 VS Superdrine RX-10
Are you ready to get back on track and in the best shape of your life? It's all just one click away with American Generic Labs Superdrine RX-10. As the most effective fat-burning solution, Superdrine RX-10 is the solution to all of your weight-loss troubles. Superdrine RX-10 also promises the same amount of Ephedra, Guarana extract, White Willow Bark and Bitter Orange (Synephrine) as Xenadrine RFA-1 by Muscletech.
It contains the exact same ingredients as the extremely popular Xenadrine RFA-1, but with one difference, an added powerful combination of herbs and super-fruits. And with this, you are not only getting 20 mg of active ephedra extract in each capsule, you are also receiving a new burst of energy with this added bonus. The unique blend of herbs and super-fruits in Superdrine RX-10 will ensure you get the daily dose of energy you need, along with quick fat-burning action.
The 5,000 year-old traditional medicine used in Superdrine combined with the newest super-fruits out there make for a truly powerful, unique concoction. Not only have these herbs been proven to increase energy and burn fat, add the most medically tested weight loss supplement, and you cannot go wrong.
Diets can be great, but they only take you so far, as many people just go back to their original ways right after it is up. Don't let this happen to you. The answer is simple. Now you have the power to suppress your appetite, boost your metabolism, increase you energy, and turn your body into a fat-burning machine. Superdrine RX-10 takes the popular Xenadrine RFA-1 to the next level.
Are you feeling drowsy lately, with no end in sight? Pick up those energy levels and start off your day smiling with Superdrine RX-10. Why not boost your energy throughout the day and burn fat at the same time? The best way to do this is with this combination of natural herbs and Ephedra extract.
Ephedra diet pills are proven to be the most effective fat-burning product out there. The scientific community has come up with multiple responses about Ephedra diet pills; they are the most effective aid out there. It will start working almost immediately, because of your body's reaction to the change. Your body will heat up, making it seem like you are working out, even when sitting on the couch.
Don't let one more day go by without taking advantage of this incredible fat-burning product. Let Superdrine RX-10 be your guide on the road to the body you've always wanted. It will give you the energy you need, as well as turn your body into a metabolic furnace, burning up unnecessary fat.