Details
Superdrine RX-10
by American Generic Laboratories

120 Capsules
The Search Is Over!
Superdrine RX-10
is the most effective and best Ephedra based fat burner you will ever need with a powerful
20mg of active ephedra extract in each super charged capsule.
Superdrine contains ingredients to help you burn the fat and keep it off, and Superdrine RX-10 is 100% Guaranteed.
If you liked Xenadrine RFA-1 you'll love Superdrine RX-10. Superdrine contains the same key ingredients in Xenadrine RFA-1. Superdrine also contains exactly the same amounts of Guarana, White Willow Bark, and Ephedra per capsule.
Superdrine RX-10 Ephedra Diet Pills by American Generic Laboratories offers you a new Ephedra product that has fans of Xenadrine RFA-1 really talking. Superdrine RX10 Ephedra Diet Pills will help you burn excess fat by:

* Boosting your metabolism
* Utilizing thermogenics that turn your body into a fat burning furnace
* Suppressing your appetite
* Utilizing both natural herbs AND the best scientifically created supplements
* Increasing your energy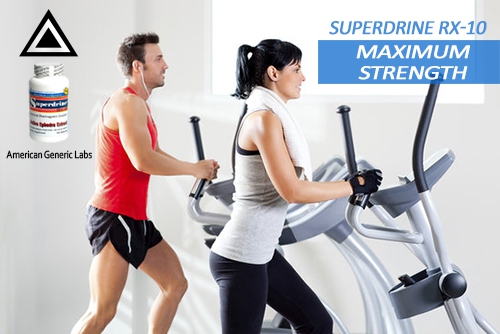 Superdrine RX-10 Ephedra Diet Pills contain the exact same key ingredients that Xenadrine RFA-1 once had. Superdrine RX- 10 Ephedra harnesses the same power that will help you create the best you possible using a unique combination of Ephedra, Guarana extract, White Willow Bark and Bitter Orange (Synephrine). In addition, Superdrine RX 10 Ephedra combines the power of 5000 year old traditional medicine, the newest super-fruits, and the most medically tested weight loss supplement ever to control your appetite, give you energy, and turn your body into a metabolic furnace.

When it comes to Over the Counter weight loss stimulants, nothing works like Ephedra. It has been studied by the scientific community relentlessly, and the one constant result is that Ephedra helps people lose weight. From the first time you take it you'll see the proof of its effectiveness. By increasing your body temperature, Ephedra Thermogenically increases your metabolism, causing you to burn calories all day long as if you were exercising! Whether you're trying to get rid of the last few pounds, or have had no luck with yo-yo dieting and fad pills, Superdrine RX-10 Ephedra will help you break through your plateau. And by suppressing your appetite, it means that while you're burning more calories than ever before, you will be eating less, without hunger and frustration.

Of course, for the busy person, one of the biggest problems with dieting is the lack of energy and focus. You need to be in top form to make it through the day, and low calorie intake can turn you into a zombie. Superdrine RX10 Ephedra will give you the energy you need, making you sharper and more focused than ever before.

Serving Size: 1 Capsule
Servings per Container: 120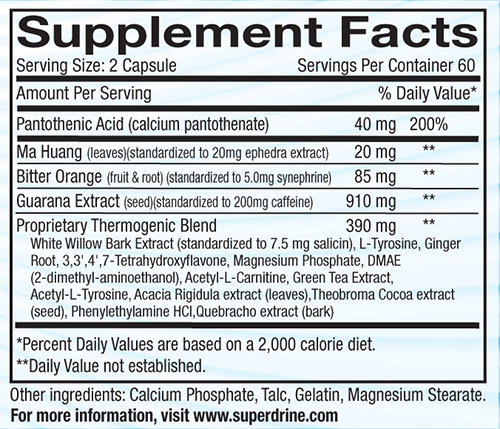 Ingredients: Pantothenic Acid (calcium pantothenate) 20 mg, Ma Huang (standardized to 10mg ephedrine) 167.5 mg, Bitter Orange (standardized to 2.5 mg synephrine) 42.5 mg, Guarana Extract (standardized to 100 mg caffeine) 195 mg, Proprietary Thermogenic Blend 195 mg (white willow bark extract, L-Tyrosine, ginger root, magnesium phosphate, DMAE, Acetyl-L-Carnitine, green tea extract, Acetyl-L Tyrosine)

If you are tired of wasting money, time and energy, you need to buy Superdrine RX-10 Ephedra by American Generic Laboratories today.
Unlike Ephedra Free products that promise much but deliver little, Superdrine RX-10 is the real deal. Say goodbye to broken promises and failed attempts with inferior Ephedra replacements and say hello to Superdrine RX-10.
Xenadrine RFA-1 is a registered trademark of Cytodyne Technologies

Superdrine RX-10 is a registered trademark of (AGL) American Generic Laboratories, LLC
Additional Information
Servings
120
Dosage
1 Capsule
SKU
094922536242
Manufacturer
American Generic Labs
Nutrition Facts

Serving Size: 1 Capsule
Servings per Container: 120


Ingredients: Pantothenic Acid (calcium pantothenate) 20 mg, Ma Huang (standardized to 10mg ephedrine) 167.5 mg, Bitter Orange (standardized to 2.5 mg synephrine) 42.5 mg, Guarana Extract (standardized to 100 mg caffeine) 195 mg, Proprietary Thermogenic Blend 195 mg (white willow bark extract, L-Tyrosine, ginger root, magnesium phosphate, DMAE, Acetyl-L-Carnitine, green tea extract, Acetyl-L Tyrosine)
Customer Reviews
great fat burner Review by

Anthony

This stuff really packs a punch (Posted on 7/20/2015)

works good Review by

Lilly

This product works well to increase energy and provide additional boost to exercise performance. I haven't seen a decrease in appetite or weight but that was also not my goal. (Posted on 9/15/2014)

It was great in the past Review by

Lano

I used superdrine years ago and it was great stuff. I was happy to recently come across this site selling it at a reasonable price and I hope I have the same kind of excellent results. Can't wait to start using it once I receive my package. (Posted on 3/18/2014)
Write Your Own Review